Thanks to the internet, buying prescription glasses in Singapore is now much easier. You no longer have to physically go to your local optometrist just to get your designer eyewear in Singapore.
Nowadays, there are various stores offering spectacles online in Singapore. All that's left for Singaporeans is to find the right provider for their needs!
But before this, let's first explore how buying spectacles online became a thing in Singapore!
The Growing Ecommerce Market in Singapore
Over the last five years, Singapore has seen significant growth in its e-commerce market. Claimed to be one of the fastest-growing e-commerce markets in South East Asia, Singapore is taking in billions and billions of dollars to the economy.
And thanks to recent events, the market has experienced major increases in online purchases. Due to the new normal of social distancing, fewer Singaporeans are going out to shop.
A significant increase was observed around online transactions. More and more Singaporeans are using the internet to buy their groceries, their clothes, and more!
Admittedly, buying spectacles online have been growing popular across the globe. The trend emerged even before when people were encouraged to stay at home.
And unlike major brands like Owndays, most local online stores offer branded sunglasses in Singapore and designer eyewear for a cheaper price.
So, instead of sticking to high retail prices for prescription glasses, Singaporeans go online. They look for the right spectacles online without breaking the bank and risking themselves!
And because of how popular it became, the Singaporean Government has placed restrictions on online purchases for prescription glasses.
Age Restriction
Singaporeans aged 16 and above are the only ones allowed to purchase prescription glasses online in Singapore.
And for them to buy branded sunglasses as their prescription sunglasses, they need to have a valid prescription. Furthermore, their prescription must come from a registered optometrist from the Optometrists and Opticians Board.
Registered Businesses
Besides the age restriction, the new 2016 regulations also require online retailers to be registered in Singapore.
Additionally, the ecommerce site must also have a physical store where consumers can return or have their new designer eyewear adjusted.
Anyone caught disobeying the aforementioned guidelines will be subjected to disciplinary action.
These are only some of the new restrictions that the Ministry of Health issued around 2016. The restrictions come after the Singapore Optometric Association expressed concerns to the board over the growing trend of purchasing spectacles online.
The board explained that online transactions risk the absence of proper eye tests and lack of after-sales care. And while the guidelines were developed for safekeeping, some retailers think that it's not practical.
According to them, some optometrists might not be so keen about giving prescriptions when they know that patients will buy their designer eyewear elsewhere.
But board members reiterate that the guidelines are meant to uphold the standard and professionalism of the optical industry.
How to Buy Prescription Glasses Online in Singapore?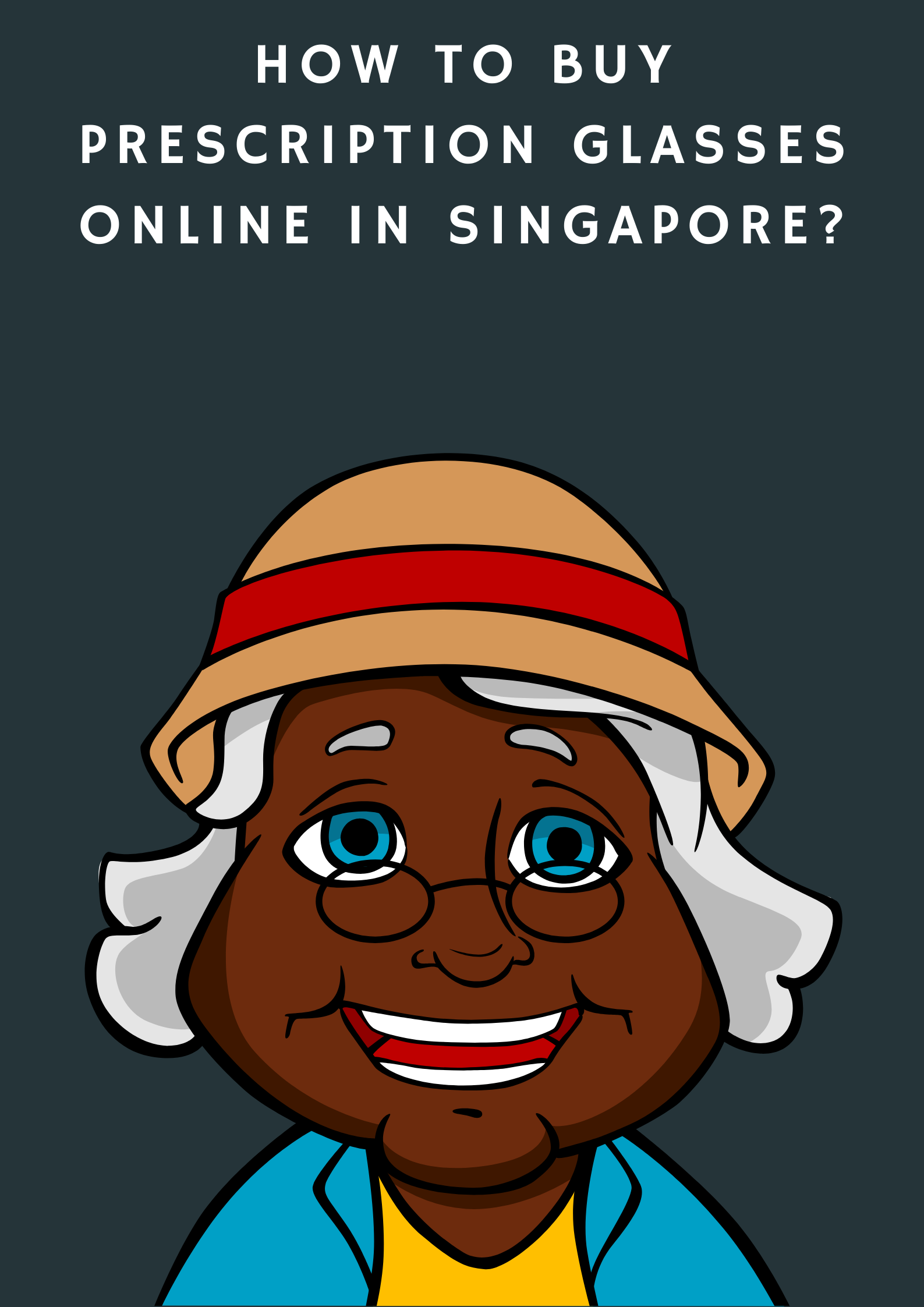 The process of buying spectacles online depends on your chosen provider. But generally speaking, retailers would often ask you to pick out your frames first.
Choosing The Right Frame
Admittedly, finding the right frame for your face shape takes quite some time. It's often one of the most time-consuming parts of the process.
And depending on your chosen provider, some features allow you to fit the frames on your face! There are existing face shape guides that you can use to find out your face shape.
By doing so, you'll have a better idea of what kind of frame looks best on you! To help you out, here are three things that you need to keep in mind when looking for your frame.
Frame Shape
Depending on your face shape, there are frame shapes that would either complement your good features or your bad ones.
Go back to your face shape guide and figure out the best shape for your face!
Frame Size
There are two common kinds of frame size available to patients; narrow-sized frames or wide-sized frames.
If you buy a frame with a too-narrow size, your face will look much wider than it is. On the other hand, buying a too-wide frame will make your face look narrower.
Frame Color
When it comes to picking the right frame colour, there's no legitimate guide that you need to follow.
It's up to your keen eye to figure out which colour looks best on you! Additionally, most designer eyewear in Singapore comes in different colours. There are various options for you to choose from.
Kind of Lens
Now, the kind of lens that you will need for your prescription glasses from Singapore will depend on your condition.
The majority of nearsighted and farsighted patients are prescribed single-vision lenses. This kind of lens only has one corrective power and is often used for reading glasses.
On the other hand, patients who want to get prescription glasses with two or more different corrective powers can use multifocal lenses. Other kinds of lens available in Singapore are bifocals and progressive lenses.
Lens Treatment
Depending on your chosen provider, you can add treatments to your lens. Sometimes, they're offered free of charge but some providers do ask patients to pay a little extra.
Here are three treatments commonly offered by stores!
Duraclear Anti-Reflective Coating (AR Coating)
This specific treatment removes glare on both the front and back of your lens. It's a must-have for most prescription glasses in Singapore as it helps reduce eye strain and is easy to clean.
Digital Light Protection
This treatment is perfect for Singaporeans who spend hours and hours on end in front of the computer. They help deflect the harmful blue or violet light and offers scratch-resistant properties. Additionally, the treatment also has anti-glare properties.
Transition Lenses
The aforementioned treatment helps turn prescription glasses into prescription sunglasses. With this treatment, your lenses automatically adjust to your current light conditions. They immediately lighten or darken according to your needs.
If you want to add one of these treatments to your lenses, don't be afraid to contact your service provider!
The Pros And Cons of Buying Spectacles Online in Singapore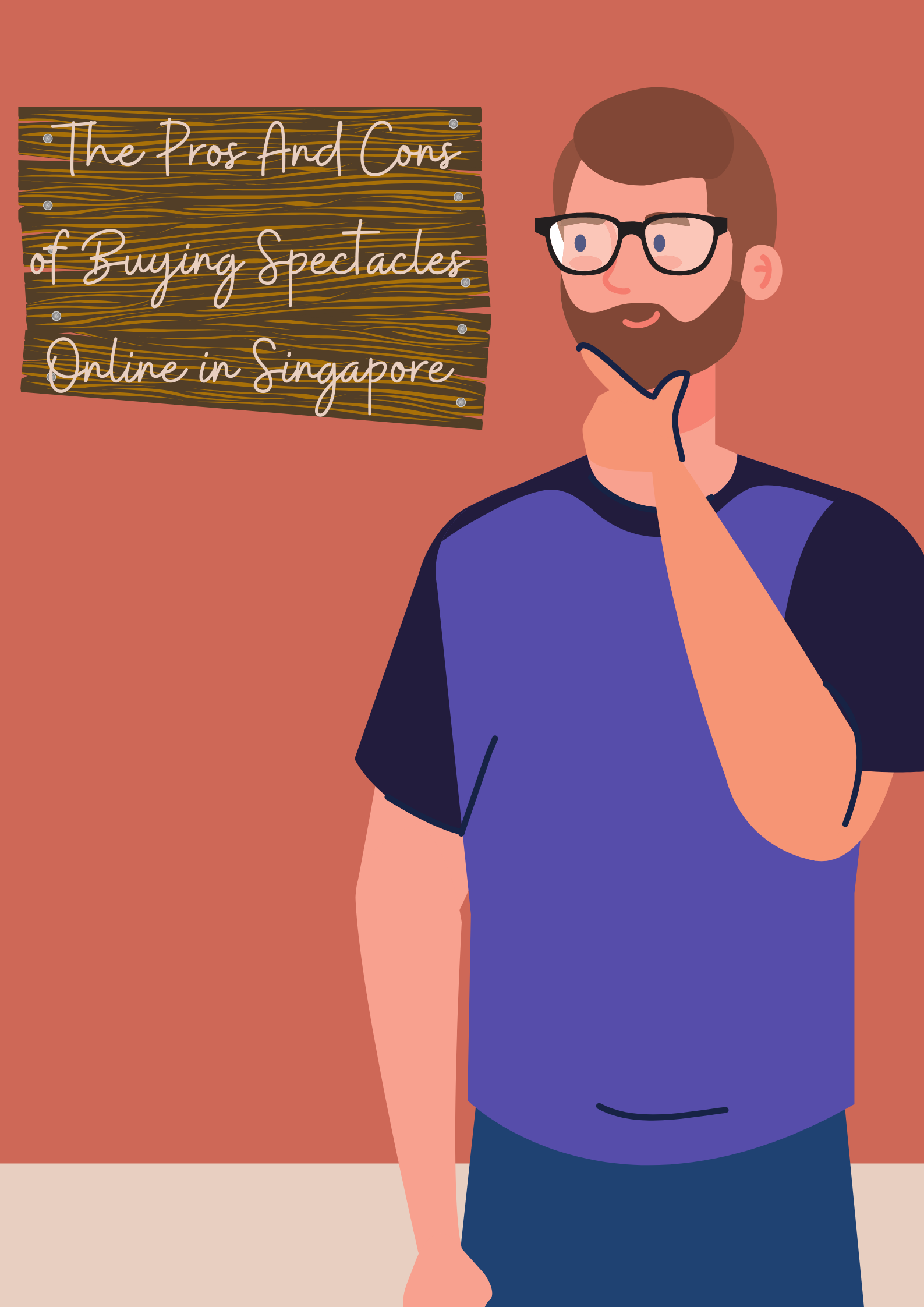 Just like everything else in the world, there are varying advantages and disadvantages to buying your prescription glasses online.
Advantages
Besides convenience, there are various other benefits to buying spectacles online in Singapore. For one, it's easy to compare prices between varying websites.
Unlike when you're physically shopping, you have to transfer from one store to another. And sometimes, you end up going home empty-handed and disappointed. Thankfully, you can avoid the hassle that physical shopping does to you by going online!
You can simply sit in front of your computer or even your phone and start browsing! A large majority of ecommerce stores offering branded sunglasses in Singapore make dedicated spaces for all the must-know information their consumers need. They no longer have to drive from different stores across the city just to get the quotation that they need.
All that they have to do is to go on the sites they're planning to buy from.
Aside from this, other Singaporeans have reported saving more in terms of cost whenever they buy their prescription glasses online. Not only do most ecommerce sites offer lower prices, but patients also get to save on commuting costs!
Now that they can browse and get their prescription glasses at home, Singaporeans no longer have to worry about the cost of commuting. Additionally, they can effectively keep their family safe by staying inside!
See, once you get your spectacles made online in Singapore, they'll be delivered straight to your home. You can go ahead and disinfect the package before you use them. But generally speaking, service providers are now implementing strict protocols around disinfecting items. Singaporeans can rest easy knowing that their brand new prescription glasses were made for your needs and are virus-free!
Disadvantages
One of the major downsides of shopping for prescription sunglasses online is that you don't have a sales representative to help you out. Some Singaporeans who are not familiar with the process of getting prescription glasses need help finding the right designer eyewear for their needs.
Furthermore, measuring your pupil distance alone can be difficult. Another thing that an optometrist will ask you when buying your prescription glasses is the distance between your pupils. And some Singaporeans have said that doing this is like cutting your hair.
Another disadvantage is that consumers have to watch out for return policies. To help Singaporeans ensure that they're getting the after-sales that they deserve, the government has made owning a physical store a must for businesses. But if you were unlucky enough to be unaware of this, you might have bought your new spectacles to an online shop without an actual score.
Furthermore, requesting adjustments like correcting the prescription or getting a better fitting frame can be difficult. This is especially difficult for users who want to get progressive glasses. There are other measurements that they need to worry about.
And sometimes, these measurements can only be made by trying on the frames in person.
How to Find The Right Store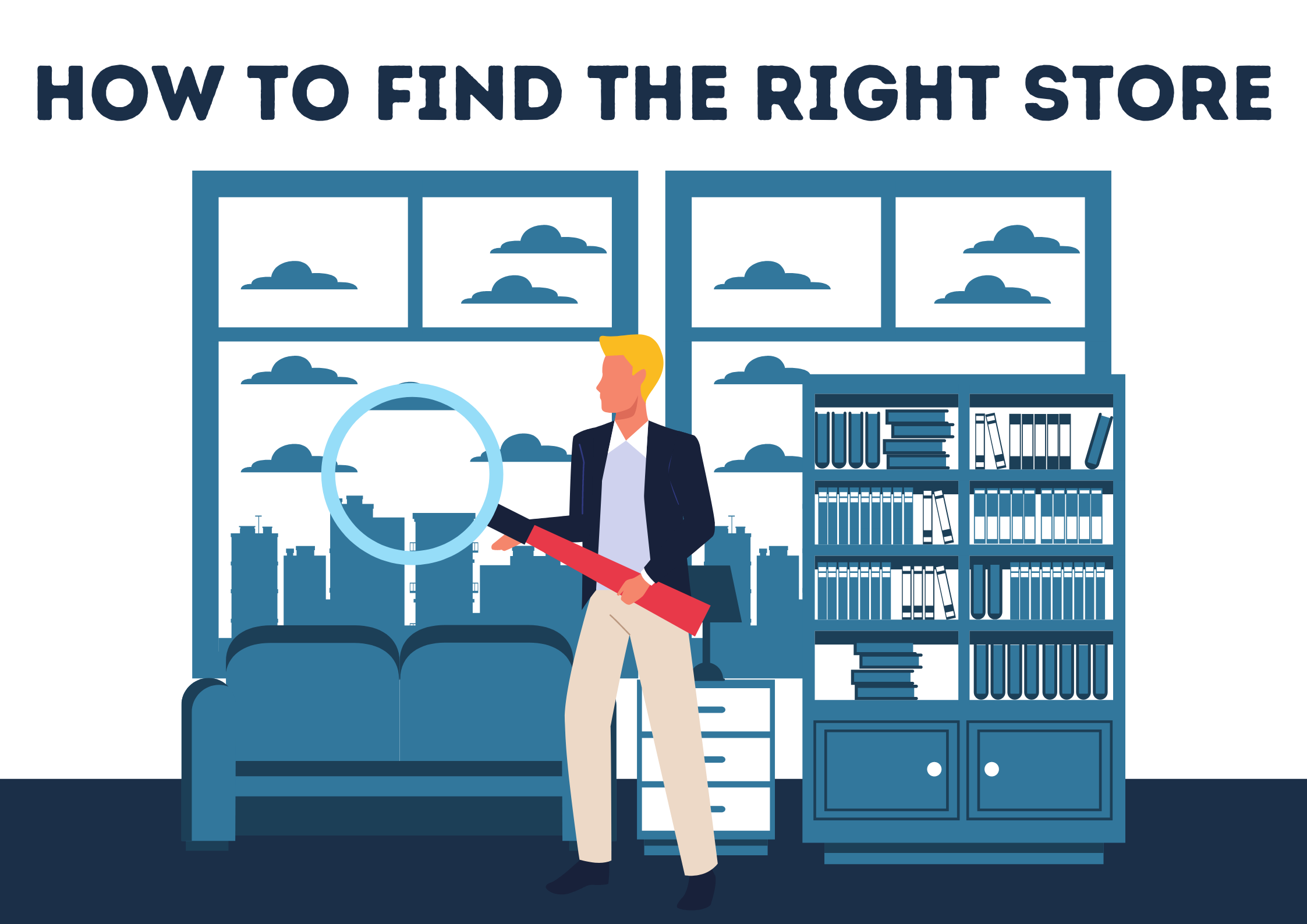 Thanks to the vast variety of stores available online, finding the right service provider for your prescription glasses in Singapore can be difficult. So, to help you find the right provider, here are some things that you need to remember!
Variety
If you want to buy designer eyewear in Singapore, you need to know which store to go to. While most stores offer a wide variety of frames, certain shops don't carry enough designer eyewear.
So, before anything else, take your time browsing from one store to another. If you see an ecommerce site offering branded sunglasses, make sure that they're a trusted source for luxury items. Over the recent years, fake luxury items have made their way into the shores of Singapore. To avoid making costly mistakes, make sure that you choose a trusted provider.
Customer Service
Prescription glasses are no joke. And sometimes, after-sales service is the only way Singaporeans will feel secure with their purchases. Thankfully, you can always check out reviews from their previous customers!
Ecommerce sites tend to display reviews on their home page. But more often than not, these reviews are alarmingly positive. To get the real deal, do thorough research! Scour the internet for any reviews around your chosen stores.
If the reviews are genuinely and consistently positive, they're probably a trusted source. Sure, there may be a few lower reviews but if a large number of the feedback you saw is positive, you're probably good to go!
But if the reviews you've found are fluctuating, getting worse and worse by the minute, you might have to think twice about going there.
Price Tags
Some stores have higher price tags than most. And if you're on a budget, you need to find a store that fits right into your price range. There are various service providers available in Singapore, all that you need to do is to conduct your due diligence of doing research!
Additionally, some stores offer several other discounts on their prescription glasses. Don't be afraid to take your time conducting research and comparing prices. At the end of the day, your prescription glasses should provide you with better eyesight without breaking the bank!
Key Takeaways
Thanks to the internet, getting better eyesight has never been easier than before! With various stores online offering prescription glasses in Singapore, you no longer have to endure blurry visions or awful headaches caused by eye conditions. You can improve your way of living and productivity by getting the right prescription glasses for your needs!
Don't be afraid to ask questions to your service providers and to take your time while shopping online. Now that you're able to do this while at home, now's the best chance to reflect and think deeply about your next prescription glasses! And by keeping the guidelines we've shared with you earlier and the other tips given in mind, you can easily shop for your new spectacles online in Singapore.
Learn more about shopping for spectacles online in Singapore by visiting Better Vision's website!